WE'VE GOT THE CHEAPEST
SKIP BIN HIRE PRICES.
Book your bin online in less than one minute!

BOOK A CHEAP SKIP!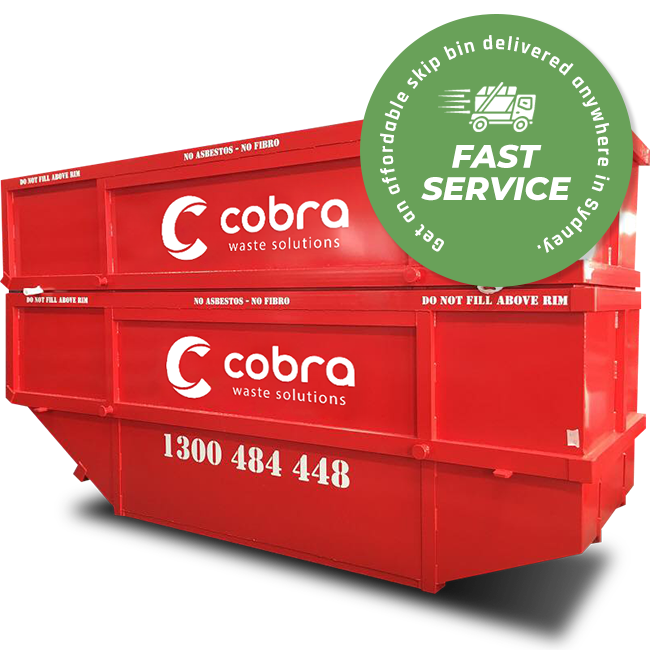 Simply get in touch and one of our specialists will match you with the perfect skip bin, one that suits both your needs and budget.
We have a wide range of skip bins at affordable prices. Our dedicated support team strives to be as accommodating as possible.
You pick the date and our expert delivery team will ensure your chosen skip bin makes it to the right place at the right time.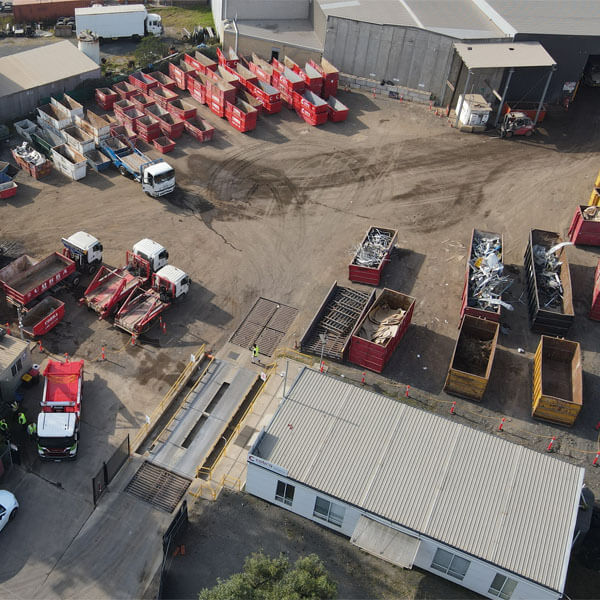 Cobra Recycling Centre
RECYCLING
Green is the new black! As environmental awareness grows, so does the popularity of services that make being environmentally conscious simple and affordable. Waste recycling facilities, such as ours at Cobra Waste Solutions, are leading the charge in reducing the impact of human waste through recycling, reducing both the space required for landfills and the emissions generated as a result.
Cobra Waste Solutions prioritises recycling compliance with government and industry regulations. We are working hard to establish ourselves as Sydney's best-practice and industry-leading recycling facility. Enquire with our team about our facilities and how Cobra Waste can help you recycle. We accept and recycle a wide range of waste types which you can find more information on across our website. If you would like to hire skip bins, hook bins or are interested in our commercial front lift bins, book a bin online or enquire with our team today.
LEARN MORE
Need a Skip Bin? Call a Cobra.
ANY SIZE SKIP BIN HIRE IN SYDNEY
Cobra Waste Solutions offers skip bin hire in Sydney for commercial and residential waste disposal needs alike, working with everyone from Sydney's best-known development and construction projects to individual homeowners doing a clean-out. We have small skip bins starting at 2m³ that can handle garbage disposal for a small bathroom renovation, while our largest skip — a 35m3 hook bin — is suitable for a large building site.
Western Sydney skip bins whenever you need them.
Located on Brent Street in St. Marys, Cobra Waste Solutions have built a reputation as the top waste management specialist in the area with the best skip bins, the highest standards and the lowest prices. We can help you with skip bin hire anywhere across Western Sydney. As long as we have a skip bin free, we'll bring it out to you on the same day at no extra charge, although we recommend confirming in advance to ensure availability. Book online, and you'll have order confirmation in as little as two minutes, or contact us if you need help choosing a skip bin.
FAQs
How much are skip bins to hire?
The cost of skip bin hire varies depending on what size skip bin you need, how long you need it for, and what kind of waste disposal you are going to be using it for. Our smallest skip for a single day, suitable for general waste, can cost as little as a few hundred dollars. A 35m3 hook bin used for a week to dispose of waste that includes difficult items like building waste such as demolition materials will cost a few thousand dollars. If your garbage disposal contains hazardous materials such as asbestos, we will have to provide a specialised hazmat skip bin, and quote this separately as these items will affect the cost.
Using our online booking system, enter your postcode, the skip bin size you need, the type of waste you will be disposing of, and when you need the skip bin to be delivered and collected. You will then receive a complete quote with no hidden costs, so you know exactly what your waste removal skip bin will cost you.
What size skip bin do I need?
The easiest way to figure out what size skip bin you need for waste removal is to measure how big you think the pile will be. Take a measurement of depth by width by length, and then choose the nearest skip bin we have. As a general guide, a bathroom renovation will typically require a 2-4m3 skip bin, and a general house clean-up needs a 4-6m3 bin. Our larger hook bins are generally used for construction and building waste.
We recommend choosing a size just above what you estimate you need, as our skip bins cannot be filled past the rim. If you're not sure what to get, just get in touch. As a leading provider of waste management services, we know what size skip bins people typically need, and we'll be happy to give you advice.
LEARN MORE
Recycling and Disposal
RECYCLING CENTRE
The recycling centre at Cobra Waste Management Solutions offers minimal wait times, competitive rates, all-weather access and more.
LEARN MORE
Sydney's Best Value Skip Bins
THE COBRA WAY
Cobra Waste Solutions are committed to providing waste management solutions that are both efficient and environmentally friendly. We do this by offering a comprehensive catalogue of waste management services – including collection, processing, separation, recycling and disposal, supported by a dedicated team of customer-focused specialists who have perfected their skills by completing thousands of projects across Sydney.
CALL US: 1300 48 44 48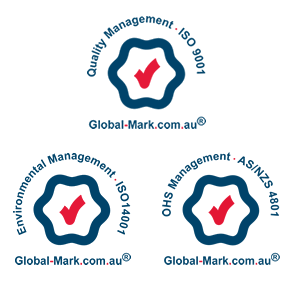 Complete the form below to make get a free quote.
Contact Us
REQUEST A FREE QUOTE
Give us a call or complete the form to request a free quote.
Cobra Bins provides all types of skip bins for all household and Builders. With competitive rates, same day delivery/changeover and unbeatable service, we can ensure an excellent overall customer service. As experts in the industry we guarantee that the process of ordering your bin will be efficient and effective.
Did you know you can book a bin online?
BOOK A BIN - 100% ONLINE!
With a wide range of bins for hire, booking the right one is only a click away. Simply enter your location and required hire dates into our free, online reservation system, and we will generate a selection of suitable options to help you book the bin that best suits your waste removal needs.
BOOK A BIN
I would recommend Cobra waste solutions to my family and friends for their waste removal needs..Easy to communicate with,friendly service,professional and on time...big thankyou to all the team.

Mark S
Extremely good service and fantastic staff members like Melanie have always been very helpful. Our company has used Cobra Skips for the last 4 years and they have been very efficient.

Harry Sharma
Great service, very helpful, fantastic staff. Really pleasant not pushy.
Delivered on time, well positioned and picked up quickly and efficiently.
Would use again. Thank you!

Kal Nahal
I have used Cobra skips since they have opened and they have never Disappointed me and they have got Great staff members like Nora who is always very professional and helpful at the same time. Highly recomended.

Reliable Builthomes
Affordable prices and quick delivery please give us a call for an instant free quote.
...
Affordable prices and quick delivery please give us a call for an instant free quote.
...
Affordable prices and quick delivery please give us a call for an instant free quote.
...
Affordable prices and quick delivery please give us a call for an instant free quote.
...
Affordable prices and quick delivery please give us a call for an instant free quote.
...
Affordable prices and quick delivery please give us a call for an instant free quote.
...
Affordable prices and quick delivery please give us a call for an instant free quote.
...
Affordable prices and quick delivery please give us a call for an instant free quote.
...