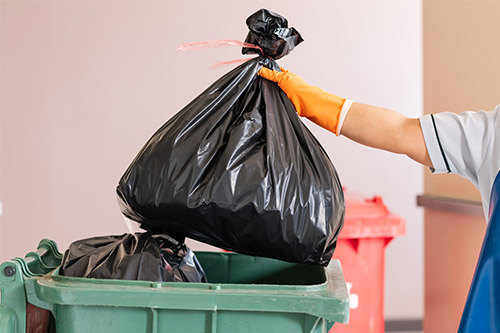 Rubbish Removal, Bins, Types Of Waste
Waste management has an impact on a larger scale than anyone would expect. For one, proper waste management systems are crucial in decreasing environmental impacts. Unfortunately, many households and commercial property owners aren't aware of the importance of such a practice. Despite the rising issues of global warming, some people continue to disperse their garbage irresponsibly in landfills.
While dealing with your waste management can be tedious and overwhelming, there are actually green alternatives that bear promising benefits. These systems don't harm the environment and result in an effective clean-out of your home and property.
This article will outline effective waste management methods and the different types of waste.
This waste management method offers a more convenient option for those who are not interested in doing any work. Without having to lift a finger, the staff from the company will do everything for you. Simply contact them and ask for their rubbish removal service offerings and inform them what kinds of waste you have on your premises.
Once your schedule arrives, their staff will come to your property to clear out your rubbish, collect them all and place them in their containers or truck. To put it simply, you do not have to collect your waste and put it into your skip bins, which is the case when you hire a skip bin service instead.
The term skip bin refers to containers in different sizes used for removing large amounts of waste from a property. These containers can be used by residential, commercial, and industrial clients. Waste bins Sydney companies are growing as the demand from residences and establishments increases. Especially with many people realizing its overall convenience and effectiveness today.
All types of household waste can be disposed of using skip bins, including green waste and junk waste. To order a walk-in skip, all you need to do is determine what kind of waste you have and do your research by finding the most reputable skip bin for hire company near you. Feel free to inquire beforehand so you'll know what to expect.
Unlike with rubbish removal services, wherein you wouldn't have to exert any effort on your part, hiring skip bin services will require some work from you. For instance, if you're a first-time user of skip bins, you will need to ask about rules on waste segregations. And upon the delivery of the bin you ordered, you will need to collect your waste and place it in the skip bin. Once the pickup schedule arrives, the employees will come to your property to remove the skip bins, leaving no trouble and leftover waste in your space.
The cost of hiring professional rubbish removal companies is much higher than renting a skip bin. Nevertheless, you are responsible for collecting all of your waste and putting it in a skip bin, which otherwise is already included if you opt for rubbish removal services.
Types Of Waste
Get familiar with the different types of waste so you can know how to segregate and handle them responsibly:
A skip bin typically disposes of any type of general waste. However, it'd be worth noting to inquire the removal company first as to what the general trash category means.
Some companies allow solid waste to be sorted into the general bin hire. While some other items like lumber and garden waste, even hazardous materials and electronics, are required to be separated.
The general waste skip bin cannot dispose of bricks and concrete. A separate skip bin can be intended for your concrete waste. This bin should only include your construction materials such as tiles, pavers, ceramics, bricks, and concrete.
Even the smallest quantities of other materials are not allowed. Chances are your skip bins will likely be resorted out if there are any unacceptable mixes.
This waste category includes all biodegradable waste that can be eliminated organically. This consists of barks, twigs, leaves, lawn clippings, trees, and other organic materials.
You can request larger skip bins depending on how much green waste you've accumulated and plan to dispose of.
Wrap Up
Skip bins from a reliable skip bin company are indeed an ideal solution for eliminating waste of all sizes. However, if you have an extra budget on the side, you can always opt for rubbish removal services, as this offers a more convenient way of properly managing your waste and rubbish.
Whatever removal option you choose, both are highly efficient and can help save the environment. You can rest easy knowing that all types of waste in your property are responsibly handled.